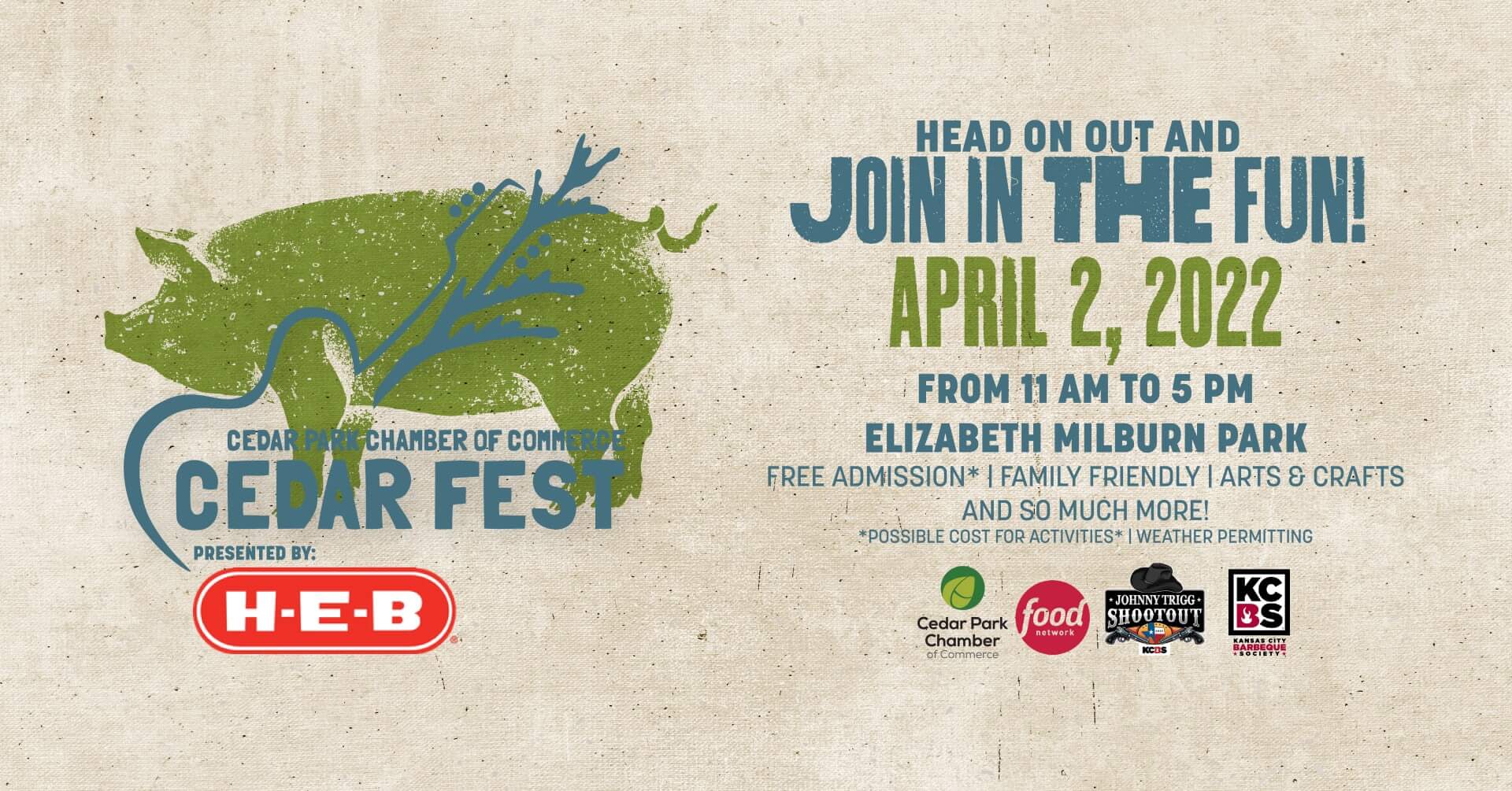 Bring Your Cook Teams to the 2022 Cedar Fest BBQ Cook-Off
This year's event will be held on April 2nd at
Elizabeth Milburn Park located at 1901 Sun Chase Blvd., Cedar Park, TX. 
BBQ Cook Off: Friday and Saturday, April 1st & April 2nd
Competition and Judging: Saturday, April 2nd from 12PM to 2:30PM
Cedar Fest Festival: Saturday, April 2nd from 11 AM to 5 PM. Bring your family for rides, games, food trucks, booths & more!
Admittance is free. some activities may have a fee.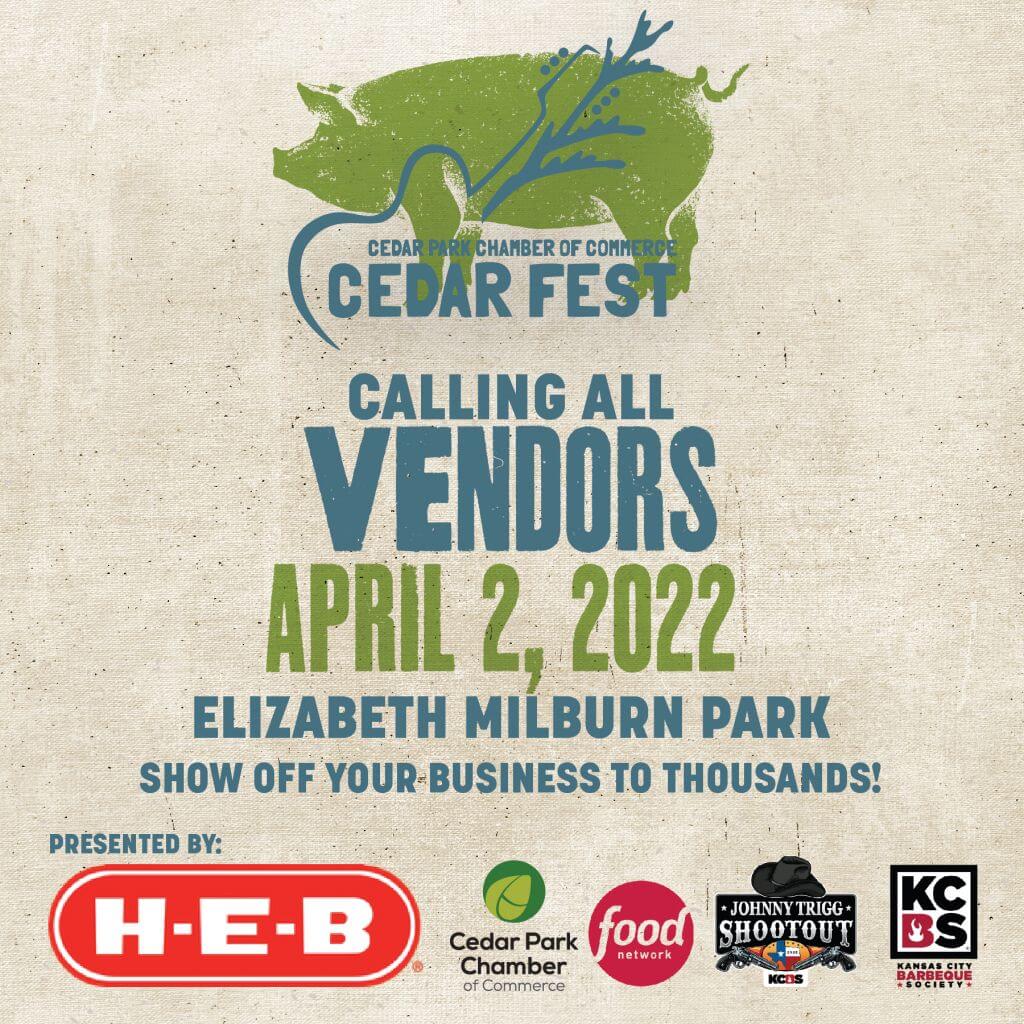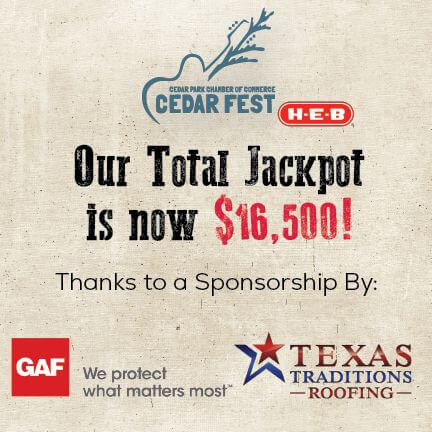 2022 Cedar Fest BBQ Cook-Off Schedule
Friday, April 1st
8 a.m. - 5 p.m. – Cooker Check-In
11 a.m. - 5 p.m. – Meat Inspection/KCBS tray distribution
5:30 - 6 p.m. – Head Cook's Meeting (by volleyball court)
6 a.m. - 7 p.m. – Cook's Dinner (by volleyball court)
Saturday, April 2nd
10:30 - 11 a.m. – Judges Meeting (main pavillion)
11 a.m. - 5 p.m. – Children's Festival
12 p.m. - 2 p.m. – Competition Turn In
12:00 - Chicken | 12:30 - Pork Ribs
1:00 - Pork | 1:30 Brisket
2:00 - Cook's Choice
$16,500 Total Payout!
Grand Champion: $4,000 | Reserve Champion: $2,500 | Place 1st through 10th win cash prizes!
We are only taking the first 70 BBQ Teams! Registration is not confirmed until registration form, W-9 form, and entry fees are received. All teams must be self-contained.
Entry Fee: $250 per team - This is a KCBS Cook-Off
Cook off categories: Beef Brisket, Chicken, Pork, and Pork Ribs
Cook's choice Winner takes all! Entry Fee: $50 | Prize: $500
Cancellation Policy:
Prior to March 1, 2022: Full Refund
March 1-15, 2022: 50% Refund
After March 15, 2022: No Refund
This is a rain or shine event!
We are only accepting KCBS Certified Judges. Please email your name and judge's number to lyndee@cedarparkchamber.org. Spots are limited.
For more information or questions contact Lyndee Matthews at Lyndee@cedarparkchamber.org or at 512.260.7800
Barn Burners BBQ
BBQ Project
Big Cat BBQ
Big Sexy's BBQ
Blue Smoke BBQ
Blues Hog
Bourbon Pigs
Buckshot BBQ
CA BBQ CO.
CHASCO Pit Crew
Chicken Fried BBQ
Chingon BBQ
Chuck Lee BBQ
Crawford's BBQ
Crossed Rifles BBQ
CRS BBQ
Dead Last BBQ
Drooling Dog BBQ
Fat Boys BBQ - Temple, Tx
Finger Lickin' Que
George's Jungle
Gettin' Basted
Hawg Bandit BBQ
Hoffman's BBQ
Hoggy Style 1
Hoggy Style 2
Honky Tonk Smokers
KA BBQ
La Pasadita
Lauren Cookers
LC BBQ
Lolli Q
Lucille's BBQ
Magic Meat Masters
Make Do BBQ
Nowhere Texas
Pappo's BBQ
PS I Love BBQ
Quality in Smoke
Red Dirt & Red Meat
Rio Valley Meat
Rollin' Smoke BBQ Texas
Slab BBQ
Smitty"s Meating House
Smokin Bros
Smokin Cochinos
Smokin Cole's BBQ Sauce & Marinade
Smoke it to the Limit
Sweet Swine O'Mine World Champion BBQ Team
T-Mac Smokin
Texas Chrome Hero's Foundation
Texas Oil Dust
Texas Revolution
Tex's Smoke BBQ
Texas Smoke Whisperer
That's It BBQ
The Pitfather BBQ
The Republic of 'Que
Three Brothers Different Mothers
Tiny E BBQ
WarPig BBQ

We are a stop on the Johnny Trigg Shootout!
NOW PRESENTING… the Johnny Trigg Shootout, a series of KCBS-sanctioned BBQ cook-offs in Johnny's home state of Texas to celebrate the legacy and history of the legendary pitmaster known as the "Godfather of Barbeque".
The Shootout will feature 5-10 Master Series BBQ cook-offs throughout the state. Pitmasters will compete for a chance at additional prize money, trophies and the honor of being named the Johnny Trigg Shootout Champion.
KCBS will track pitmasters' points across contests within the Shootout using the KCBS Team of the Year system. Participating pitmasters must be an active member of KCBS to receive points.
To learn more and for contest locations and dates, visit https://kcbs.us/johnny_trigg_shootout.php.